Isabel Bader Centre for the Performing Arts
Project Overview
A new, accessible performing arts centre at Queen's University, which incorporates Stellar Buck Heritage building and explores the lake-front location.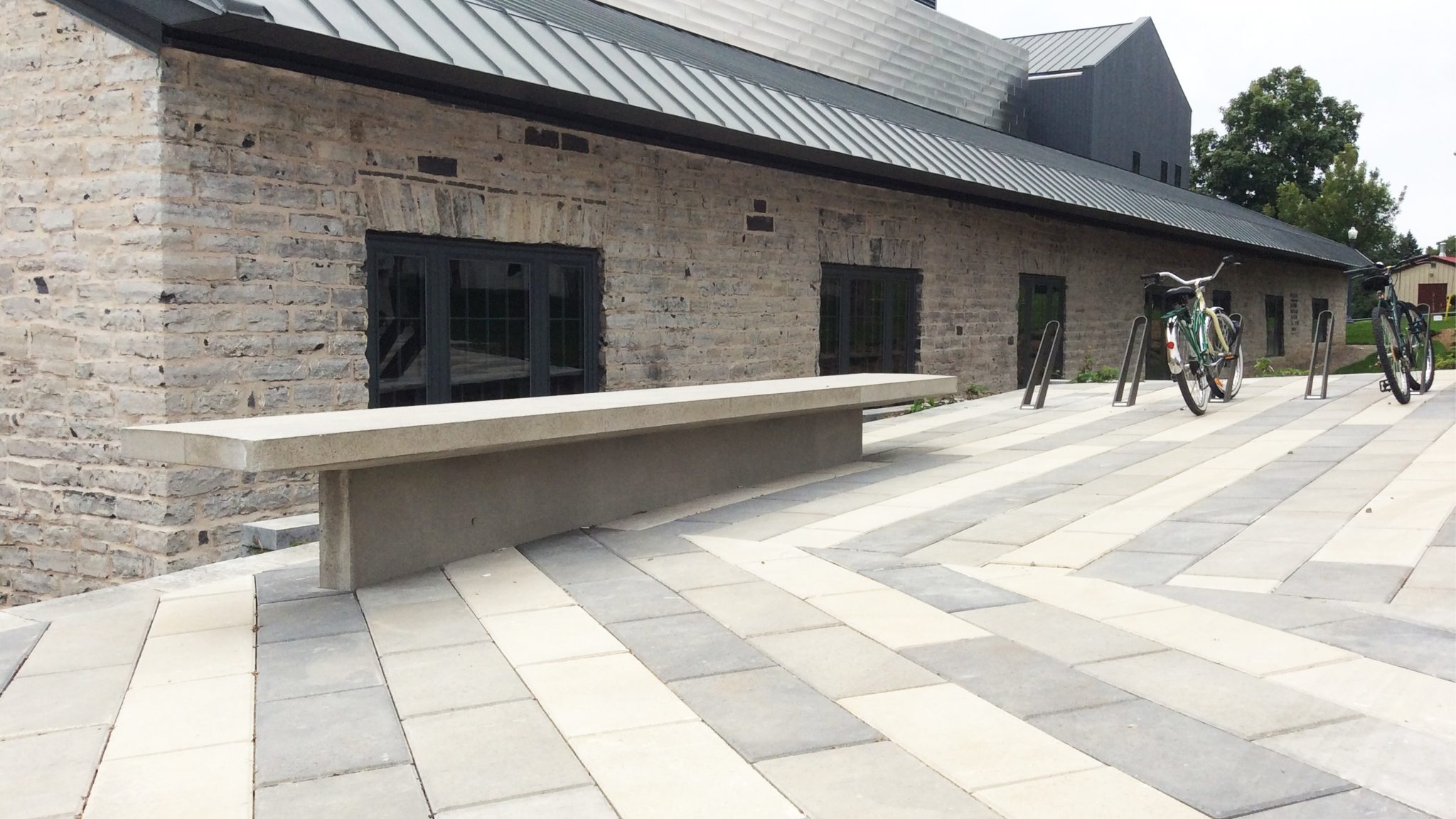 Project Description
Design and construction of a new, modern performing arts centre (Isabel Bader Centre for Performing Arts) for Queens University. The end result dovetails a new exciting architecture and landscape with existing the heritage buildings. Set along the sloping shore of Lake Ontario, the awkward grade constraints became a positive element, allowing the creation of the geometric forms that admirably incorporate old and new, allowing full accessibility.
Challenges:
Incorporating the rectangular heritage buildings with a modern, multi-leveled building built into the hillside. Use of a low-level, naturalized planting palette and angled grassed areas, the clean lines of the new landscape showcase both old and new buildings. This subtle plant palette and preserved mature trees enhances the wa
The site's significant slope from the existing street level to the proposed building entrance and on down to the south-facing Lake Ontario frontage, and the fixed grades at the existing heritage buildings, constrained the new site layout and landscape. These differing grades were linked, allowing full barrier free accessibility, by using geometric landscape elements. Low-profile landforms, sweeping lines, stepped terraces and long switchback ramps allow attractive, visually logical transitions between all levels.
Factors for Success: 
A bold, geometric design makes a striking, attractive site. The geometric forms allow a visually seamless transition between varied levels, blends old and new, and enhances views of the heritage buildings. It also simplifies provision of full accessibility by means of the long, angled ramps from road through the new centre to the enhanced waterfront.
Furnishings are consistent with the overall angularity, including seating terraces, linear concrete benches, stepped planters and angled bike racks. This visual continuity helps to make a consistent whole.
Preservation of existing walnut trees along the front of the heritage Stable Building and mature elm at the back of the heritage Stellar Buck Building, as well as being ecologically desirable, provides contextual continuity from the past to the present, adding timelessness to the final effect.
Additional Details
Ruhland and Associates LTD. Role: Project Landscape Architects, part of Design Team with N45 Architecture/Snøhetta
Location: Queen's University, Kingston
Date of Construction: 2008 – 2015
Owner: Queen's University