Richcraft Recreation Complex
Parks and Recreational Area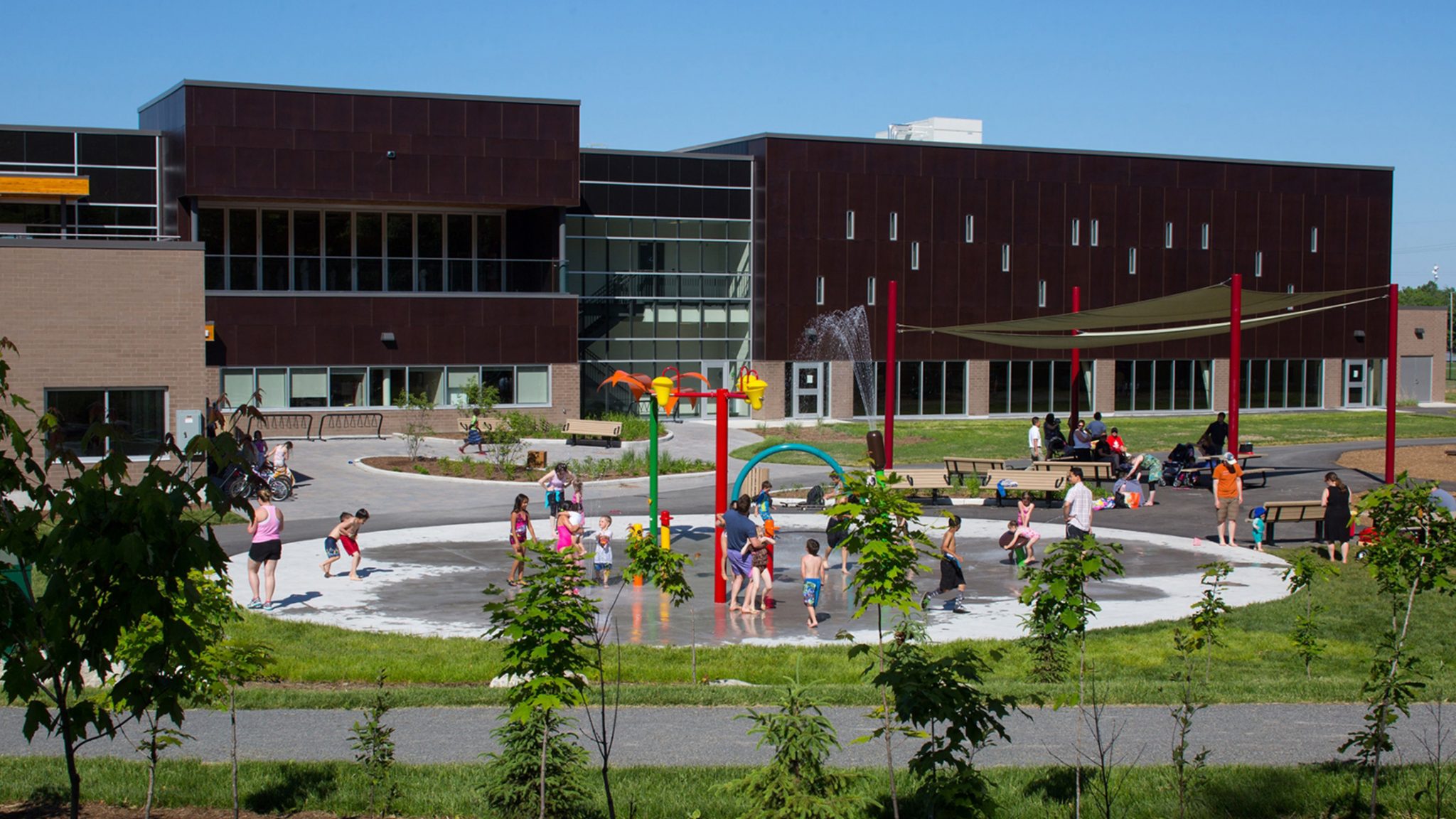 Project Overview
A new recreation complex with outdoor play and socializing areas, connection to nature trails, green roof, extensive new sporting facilities including an artificial turf FIFA 2 soccer field, and play amenities.
Project Description
This project was the construction of a new recreation complex located next to Trillium Woods in Kanata, including all outdoor amenities. The facility and site achieved LEED NC Gold certification, utilizing sustainable and green practices, technology and systems to produce a facility with a minimum environmental footprint.
Landscape amenities on the 16-acre site include: pedestrian courtyards and pathway system linking to Trillium Woods, artificial turf FIFA 2 soccer field, basketball courts with plexi-pave, splash pad, play areas, green roof with Public Art component, and reforestation with local indigenous species.
The design and layout respect and accommodate site constraints, which include a hydro corridor through the site, coordination of play amenities with the building's underground geothermal footprint
This project presented an opportunity to work adjacent to a significant woodlot while maintaining the woodlot's integrity and enhancing the woodlot edge with reforestation. RA worked closely with a biologist to ensure a sensitive and sustainable design. The Trillium Woods Natural Area provides a dramatic backdrop to the outdoor amenity spaces.
Additional Details
Ruhland and Associates LTD. Role: Project Landscape Architects, Part of Design Build Team with Bondfield Construction
Location: 4101 Innovation Dr, Kanata
Date of Construction: 2011 – 2013
Owner: City of Ottawa